Why I went to Rehab for my Summer Vacation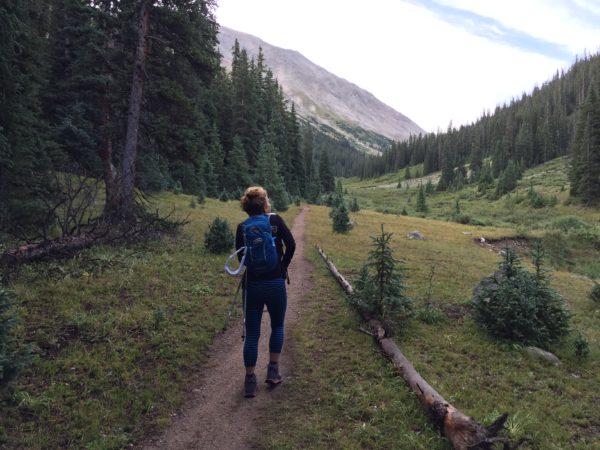 To say it's been an interesting year is an understatement.  
It started off okay, but took a serious detour when I had my left hip replaced for the third (and hopefully last) time.
It seems my body doesn't like foreign objects; a fact born out by the fact that the cup in my acetabulum, secured by bolts during my second procedure, had once again shimmied out of place, leaving me in pain, frustrated and pissed off.
When I tell people about this, the question is always the same:  What happened?  Why isn't this working?
I've seen fear in the faces of others who've had their own hips replaced, and confused judgement in those who suppose I must have done something stupid to incur such bad luck.  I don't blame them; I've wondered the same things myself.  But the bottom line is simple:  my bones were just too hard (aka scarred from previous bone on bone friction) to hold the cup securely in place.
So what do you do?  You get a new (highly recommended) surgeon,
try a different surgical approach, incorporate a new regimen of supplementation that you help enhances bone receptivity, and install a new prosthesis.  
Most of all you cross your fingers and hope like hell the third time really is the charm.
And you follow directions.  You see your doctor for follow up appointments.  You're religious about your physical therapy.  You walk and squat and log every damn clam shell on your way back to recovery. And if you're very lucky, you have a fabulous partner and wonderful co workers, clients and friends who support you and encourage you every step of the way.
You begin to see that there really is a light at the end of the tunnel and you prepare for your much anticipated return to work.
You're excited and laughing and having a blast teaching your first Pilates mat class back at work and twenty minutes into it, doing the most unassuming movement, you dislocate your brand new hip.
And the pain is worse than anything you've ever experienced, including child birth, and your body goes into shock and shakes wildly as you get carried out on a stretcher by the EMT's,  grateful that it's the only time this has ever happened at your studio and it's you (and not someone else).
It took a few people in the ER to pop that sucker back in place (don't worry, they put me under), and I felt immediate relief to be out of that pain.  But the event later proved to leave a lasting impression, one of fear, apprehension and low level depression.  It's no fun when you can't trust your body, especially when you've used that body for most of your life to teach, inspire and, oh yeah, make a living.
So, being the terrier that I am, I doubled down on my PT.  I backed off all other exercises and focused on the minute and precise movements  prescribed to strengthen the muscles that would hold my hip in place.  And I walked.  I walked a lot.  And the more I walked, the better I felt and the more I walked the more grateful I became.
That's when I decided to go to rehab.  In Colorado.
We left for Basalt, (a town located between Glenwood Springs and Aspen, Colorado) on my 57th birthday.  We planned to stay for five weeks, an opportunity that had long been only a dream of mine.  And now that dream took on expanded meaning- this would be my time to push myself beyond the limitations of my post hip replacement thinking: I wanted and needed to feel like I could conquer mountains! And so I came and put my self in rehab.
There are fifty-two peaks in Colorado that are over 14,000 feet.  I'd climbed my first 14'er, Castle Peak, several years ago with Herb, who, having lived in Colorado for a time, had climbed many of them himself.  He became my guide and pushed me to get over my fear of heights and later just fear of fatigue.  He challenged me to change my thinking about what I was capable of mentally and physically.  It was part of our courtship really, and I developed a deep respect and admiration for him on those first hikes and climbs.
But as afraid as I was back then, this year was worse.  I was secretly afraid I would fail.  Would my hip have the stability, strength and endurance to do this? I was terrified to find out.
But I was here and the mountains were here and it was time to simply do.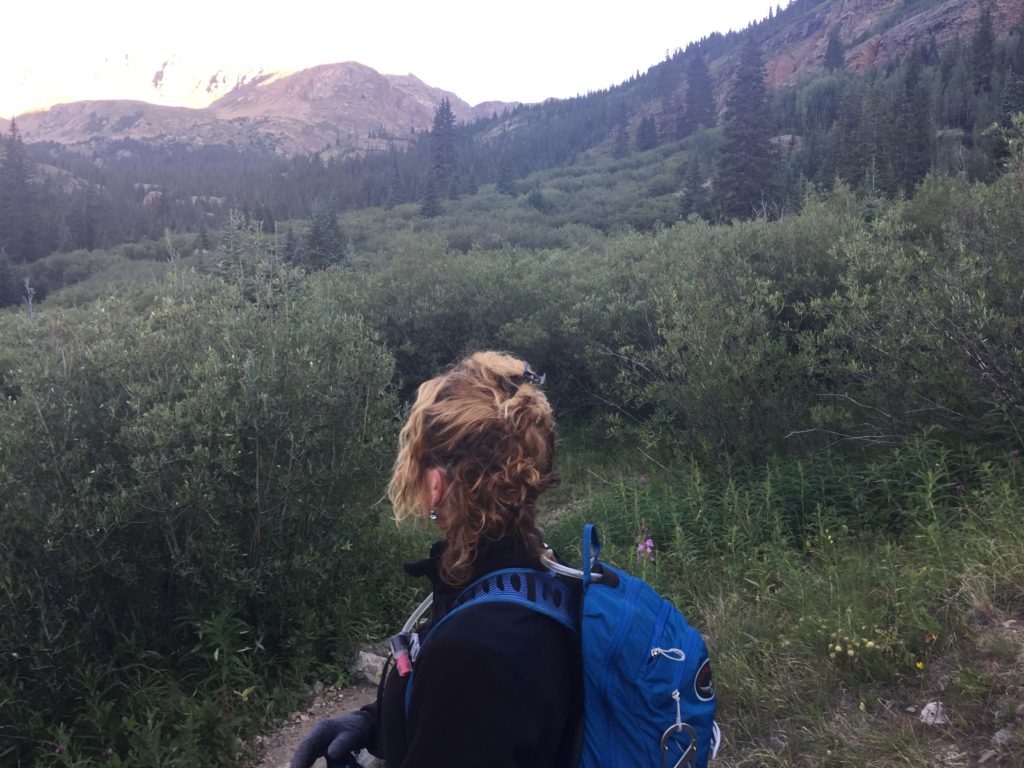 As it turns out, tromping around these mountains most every day has been the best (extended) rehab my hip could have.  Together, Herb and I have logged hundreds of miles and thousands of feet of elevation and, despite a few hairy moments when we got off a trail or two, nature has proved once again to be the ultimate teacher and healer.
When I look up and see those big peaks and begin hiking up towards them, I feel nervous and excited and a little apprehensive.  But I also feel grounded and happy. As corny as it sounds, nature puts  my life in perspective.
And when you finally get to the top and you look around at all that magnificent, powerful, steadfast beauty, thinking just kind of stops and for a moment, you simply ARE …. and that's the kind of rehab I like.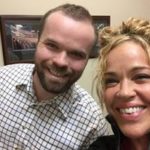 Thank you to Lisa, Britt and my entire team for being so awesome that I could take this time and not worry about the studio.  Thank you Herb for making me laugh and understanding when I was shitty (once).  Thank you Chuck and Doris for being amazing mentors and friends and for proving that folks can still be happily married after fifty years.
And thanks to my doc and Justin and Biago at Elite PT for getting me to the point that I could walk and hike and heal.  It's good to go to rehab, but it's even better to get back home.
Why I went to Rehab for my Summer Vacation
by Tina Sprinkle